Posts for January, 2013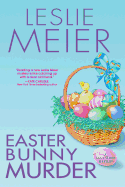 Lucy Stone learns that it's not good to have all your eggs in one basket when the annual Easter egg hunt hosted by elderly sociality Vivian Van Vorst takes a murderous turn after a man dressed as the Easter Bunny drops dead.
Between a cutthroat dessert contest and her daughter's new job at the fanciest chocolate shop Tinker's Cove has ever seen, Lucy Stone is on a steady diet of tempting treats! But with a killer on the loose, and Valentine's Day around the corner, there may be nothing sweeter than revenge. . .Read More!